Events
Royal Oak is a great place to celebrate special events! With different community events, as well as venue space for any event you could think of, this city is one to keep an eye on. Royal Oak Party Bus has taken so many customers to so many events over the years, many of which are held in Royal Oak itself, and many of which are held in the surrounding cities that are considered a part of the Metro Detroit area. This way, you can be certain that we're able to accommodate your trip in Royal Oak or beyond. We'll take you wherever you need to go, whether it's an elegant wedding day or a casual shopping trip! We do it all, and this allows us to maximize who we're able to provide service to. It's not that the destinations don't matter – they do! We're more than happy to customize your trip and transportation to fit the particular type of trip that you are taking, no matter what it entails. Let's list a few of our most popular events and destinations: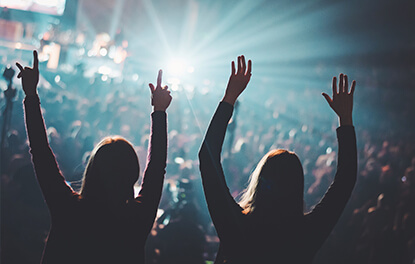 BIRTHDAY PARTIES
WEDDINGS
COMMITMENT CEREMONIES
BRIDAL SHOWERS
BACHELOR PARTIES
BACHELORETTE PARTIES
BABY SHOWERS
HOUSE PARTIES
BRUNCHES
BANQUETS
ROAD TRIPS
CORPORATE EVENTS
BLACK TIE EVENTS
MOVIE PREMIERES
MOVIE SCREENINGS
SPORTING EVENTS
DETROIT RED WINGS
DETROIT TIGERS
DETROIT PISTONS
DETROIT LIONS
COLLEGE GAMES
CONCERTS AT THE PALACE
CONCERTS AT DTE
CONCERTS AT COMERICA PARK
That's just a small sampling of the kinds of events that we typically serve. We also get very unique requests from our customers and we're always more than happy to accommodate them! Our number one concern is your good time, so no matter what you've got in mind, why not give us a call to find out if we can take you there? You've got nothing to lose, and only the best transportation to gain when you decide to call Royal Oak Party Bus.
There is seemingly no end to the list of amazing and unique events you can experience in Royal Oak, however if that isn't enough for you don't forget that there other busy and bustling communities with their own events and festivals with in a quick drive. Detroit being the king of the massively popular events, our customers love to rent our buses for sporting events, Detroit Lions, Tigers and Red Wings games are one of the consistent hot tickets in town.